About Gyeongju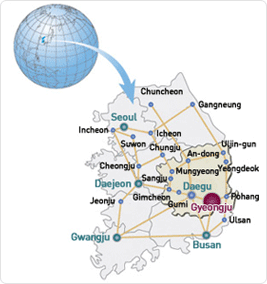 Gyeongju is the ancient capital of SillaDynasty where the splendid national culture and history originated and were handed down to this date. As a national treasure of traditional cultural heritage in Korea, Gyeongju is a global city of culture and history. With the project of establishing a city of history and culture, Gyeongju is advancing to become not only a representative tourism city of history and culture but also the city of cutting edge technology.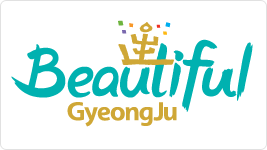 Gyeongju was the capital city if Silla for 992 years. The history of Gyeongju, which once called Seorabeol, is also the history of the thousand-year-old Silla Kingdom. Gyeongju embraces a radiant ancient culture that flourished Buddhism, science, and the arts and crafts of the people of Silla. Gyeongju is so well preserved by its people and it is also why it has been designated as a World Cultural Heritage by UNESCO.


Bulguksa Temple & Seokguram Grotto

Seokguram Grotto, the greatest masterpiece of the golden age of Silla, is a heritage property in which architecture, mathematical principles, geometry, religion, and art are collectively realized through its design and construction. Bulguksa Temple is a prime exemplar depicting Buddhist beliefs through architecture, manifesting an unparalleled architectural beauty difficult to find even in Asia.
Mt. Namsan Region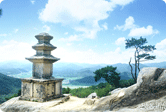 The thousand-year history and culture of Silla is tight-packed throughout the entire Mt. Namsan. There are close to 150 temple sites, about 120 Buddha statues and about 96 stone pagodas in the mountain. Mt. Namsan might as well be called a wall-less museum of Silla culture.



Wolseong Belt
Relics found in the Wolseong Belt include Wolseong Fortress,where the Silla palace once was located; Gyerim Fortress, birthplace of Kim Alji, founder of the Gyeongju Kim Clan;the site of Imhaejeon Hall, built during the Unified Silla Kingdom; and Cheomseongdae Astronomical Observatory, the oldest surviving observatory in East Asia.


Daereungwon Tumuli Park Belt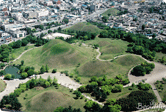 In Daereungwon Tumuli Park Belt are located tombs and burial places of high personages including kings, queens, and nobility. Based on its distinct areas, it is divided into the Tumuli in Hwangnam-ri, Tumuli in Nodong-ri, and Tumuli in Noseo-ri. When the tombs were excavated, rare and precious artifacts were discovered, including the Geumgwan Gold Crown, the Cheonmado Heavenly Horse painting, glass drinking vessels, and a variety of earthenware, displaying the essence of Silla culture as well as the era's way of life.
Hwangnyongsa Belt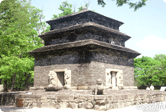 Hwangnyongsa Belt contains the site of the Hwangnyongsa Temple. Although Hwangnyongsa Temple was destroyed during the Mongol invasion, its enormous size prior to the destruction can be easily imagined. Some 40,000 excavated relics provide a valuable resource for studying Silla history.



Sanseong Belt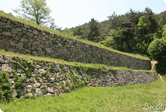 Gyeongju is situated in a basin, surrounded by mountains on all four sides. Among the many mountain fortresses built against invaders, Myeonghwal Fortress on Mt. Myeonghwal (266m), located east of Gyeongju, is registered as World Cultural Heritage. Along with Seondo Fortress in the west of Gyeongju and Namsan Fortress in the south, Myeonghwal Fortress played a large role in defending Gyeongju during the Silla dynasty. Considering that it was used as a palace during the reign of King Jabi, it is presumed to have been a large-scale fortress.


Yangdong Folk Village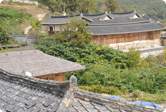 As a representative traditional Korean village built in the 14th-15th centuries, Yangdong Village readily preserves traditional architectural style within a setting and landscape that are in harmony with nature, reflecting the traditional Confucian philosophy of the Joseon era. In keeping with its status as a center of Joseon Confucian education, even today the village is an apt successor to the traditional Confucian culture and lifestyle.