Welcome Message
Welcome to Gyeongju (慶州)!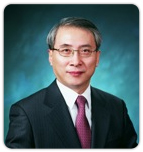 On behalf of the Korean Stroke Society, it is my great pleasure to invite you to the 5th Japanese-Korean Joint Stroke Conference which will take place in Gyeongju from October 28 to 30, 2011.

We are facing a great time for the field of stroke research with exciting discoveries of diagnostic and therapeutic progress every day. In addition, our knowledge of the pathophysiology of stoke is getting deeper.

In terms of these current trends, the 5th Japanese-Korean Joint Stroke Conference would be a valuable time to share our cutting-edge academic achievements and to establish mutual confidence and friendship among stroke experts in both countries.

As the capital of the Silla Kingdom for almost a thousand year, Gyeongju preserves vast amount of significant and fascinating historical heritages. Along with Bulguksa Temple and Seokguram Grotto, the Gyeongju Historical District has been designated as a World Heritage by UNESCO. Due to the bountiful historical, natural and cultural attractions, this region has long been a major tourist destination in Korea.
You will have a pleasant time not only participating in the academic programs but also enjoying the beauties of Gyeongju with various optional tour programs.

Following the successful history of the Joint Stroke Conference between two countries from 2000, the Scientific and Program Committee is preparing a wonderful conference with excellent work of basic and clinical researches related to stroke and cerebrovascular diseases. We cordially invite you to contribute to the success of the 5th Japanese-Korean Joint Stroke Conference.

Please join the conference and enjoy academic discussions and friendship among stroke experts in the historic city of Korea.